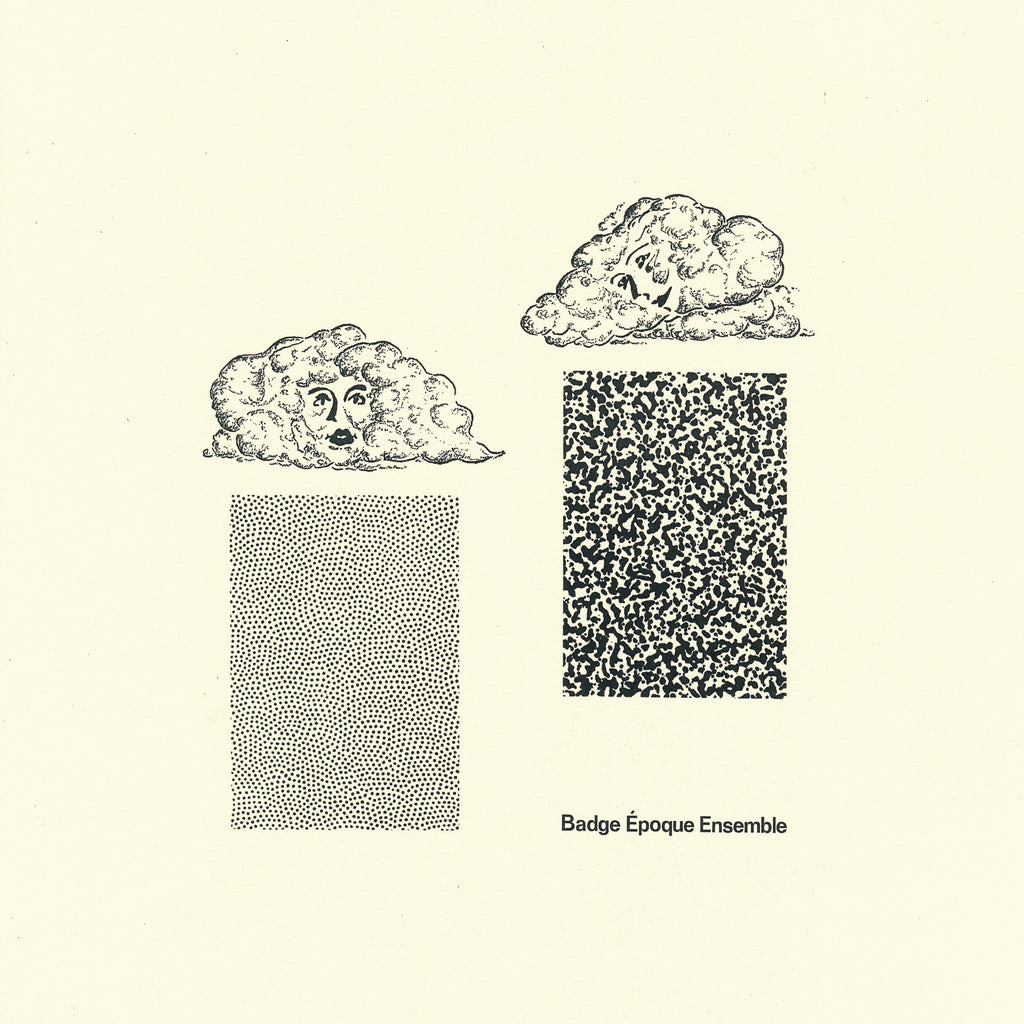 Badge Époque Ensemble
Badge Époque Ensemble
Flute, congas, bass, drums, guitar and clavinet; this unconventional arrangement of instruments intertwine to form the debut album by Badge Époque Ensemble - a group of creative improvisers assembled to perform new, largely instrumental compositions by Maximilian 'Twig' Turnbull (formerly Slim Twig).
Badge employs an eclectic cast of characters from the Toronto underground music scene, whose combined experience would take pages to spell out. It includes stints accompanying songwriters Andy Shauf and Marker Starling, outfitting heavies Blood Ceremony and Biblical, and respective careers spent gigging Django-jazz and the classical cannon. Badge's distinctive sound arises from the diversity of these musical exploits, creating a palpable chemistry well captured on the live-tracked songs that form the group's self-titled debut.
The record is a collection of densely packed grooves, arranged by committee. Dank set pieces culminate in album standout, 'Undressed In Solitude', which features the otherworldly r 'n b of guest vocalist, James Baley. Over 11 simmering minutes, the track defies the contemporary fixations of automated music to convincingly combine sensual and cerebral textures. While it may call to mind an improbable collision between psych-era Stevie Wonder and the whimsically  dark, Fantastic Planet score, it is clear we are operating in a post Wu-Tang paradigm. The blocky beats and bit-crushed landscapes of the record at large make for tactile productions (courtesy of a collaboration among producers Steve Chahley, Tony Price and Twig) that can't be comfortably ascribed to any one particular era of music making. If a crate of library, tropicalia, prog and electric jazz records were flattened into a single 12" and then fed into a sampler, we might approximate the process. Instrumental hip hop by reverse osmosis, a musical perspective where Madlib's jazz excursions carry as much weight as his sample-laced productions.

LP purchase comes with MP3 download. 
This project is funded in part by FACTOR, the Government of Canada and Canada's private radio broadcasters. Ce projet est financé en partie par FACTOR, le gouvernement du Canada et les radiodiffuseurs privés du Canada. www.canada.ca

This album was created with the generous support of the Ontario Creates.