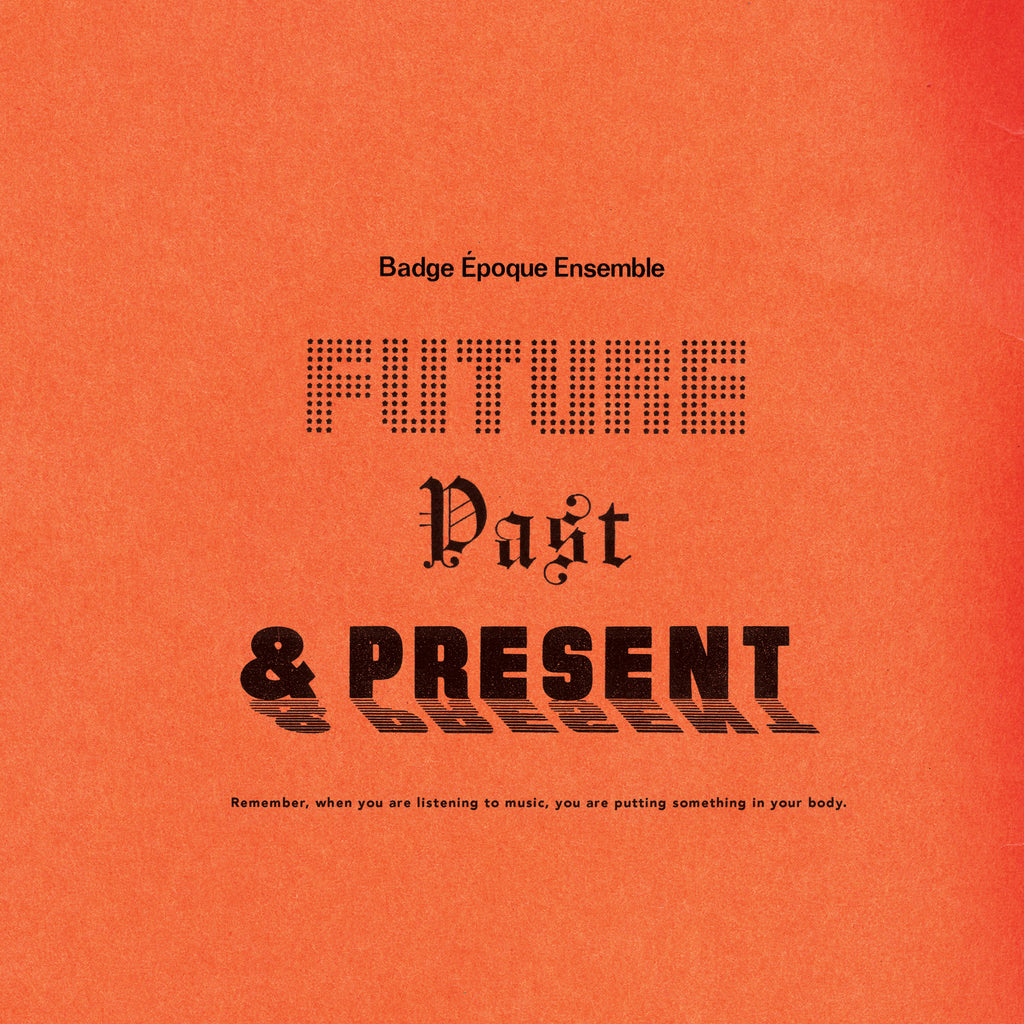 Badge Époque Ensemble
Future, Past & Present
Barely a season passed in 2019 between the release of Badge Époque Ensemble's self titled debut album, and its follow up, the disco-sleeved 12" Nature, Man & Woman. Now, 3 months on from the release of the group's acclaimed sophomore album Self Help, we find them repeating the trick with a surprise fourth title on Telephone Explosion Records, the fittingly titled Future, Past & Present.
A compilation of sorts, the album collects instrumental, alternate mix versions of all BÉE songs which originally featured guest vocalists. In practice this results in a pseudo-greatest-hits survey of the Ensemble's catalogue to-date, touching on highlights from all three releases while emphasizing the group's strength as versatile mood-conjurors. Where these songs once featured vocal heavyweights like Meg Remy, Jennifer Castle, James Baley and Dorothea Paas, they are now strung together instrumentally in a sequence which represents the purest distillation of BÉE's collective musical chemistry to date. 
Crowning this delectably listenable platter is an exclusive, nearly eight-minute composition; title track 'Future, Past & Present'. A spiritual sequel to 'Nature, Man & Woman', both tracks cook at a decidedly 'luded tempo as pressurized atmospheres swing from pleasantly meditative to sinisterly growling. On 'Future, Past & Present' bandleader Maximilian 'Twig' Turnbull returns to the approach of the earlier track, chopping drum and percussion stems from previously released BÉE works, refashioning structures for bold new compositions. This approach is an interesting contrast from the reputation BÉE has cultivated for their LP compositions which are cut live off the floor, unadorned with little to no intervention. It suggests the possibility of an expanding sonic universe for the collective, as these collaged compositions shade closer to a more explicitly hip-hop oriented pallet mostly hinted at elsewhere in the catalogue. 
Fittingly, the rest of the runtime plays like a set from a well appointed hip hop producer's crate; flattening the distances between proto-prog slap, sensuous soul flute and Brazilian AOR influenced pockets into a cohesive whole. While the band's burgeoning reputation for dusted fidelity grooves is well observed, it is formed on the basis of a contemporary chemistry and approach. Future, Past & Present is a summation of that approach to date, and well worth crating.
LP purchase comes with MP3 download.