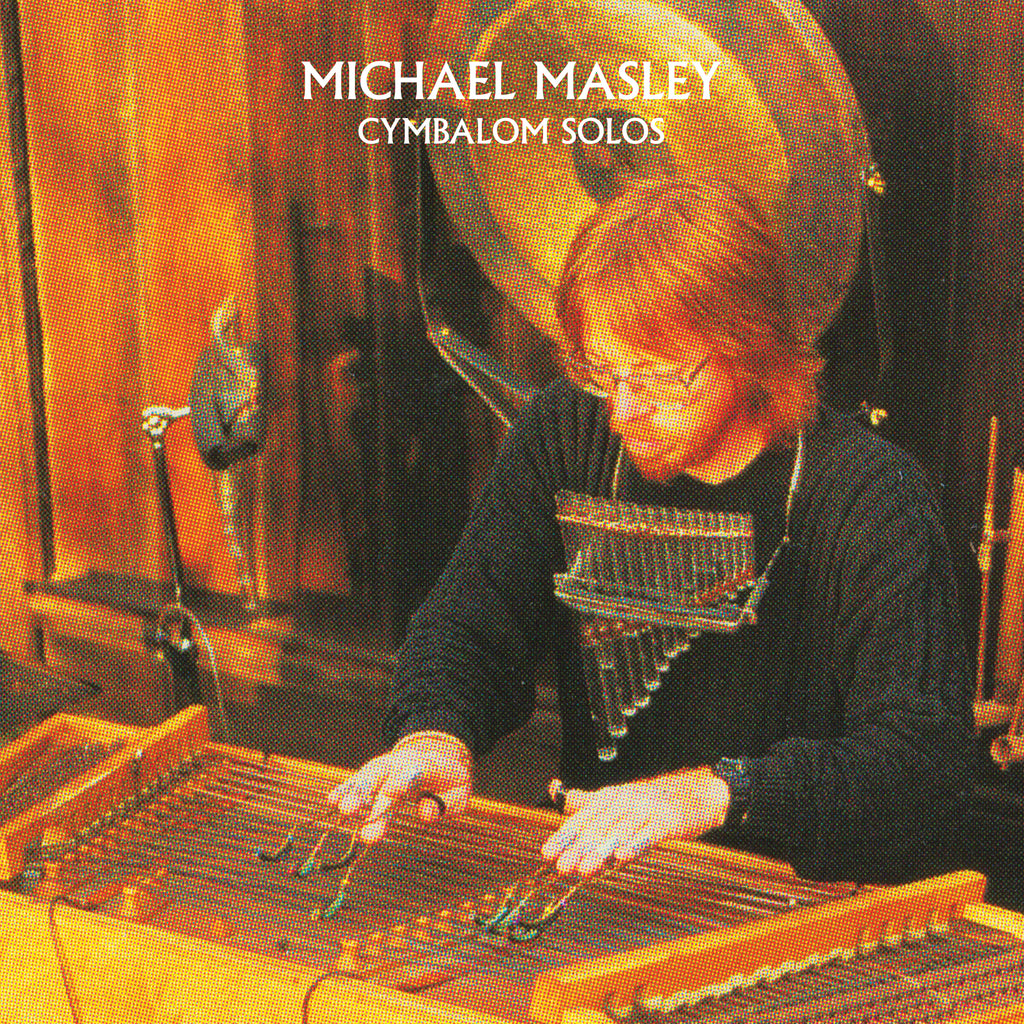 Michael Masley
Cymbalom Solos
There are constellations within the grooves of Cymbalom Solos. Innumerable points of light, rendered audible in glowing, radiant sound. There are entire worlds too - undiscovered, yet familiar - both terrestrial and celestial. There are moments of quiet comfort and exultant discovery. And all of it conjured by one man with a handful of ancient and invented instruments, recorded mostly-live, with precious few overdubs.
Michael Masley has been a fixture of Berkley, California, since he arrived from Michigan in 1982. Even today, he remains a common sight, working as a street performer - catching the attention of passers-by as he summons otherworldly overtones from a coterie of arcane instruments. This is how he met fellow east-coast transplant and musical voyager, Barry Cleveland, in 1983. Cleveland was enraptured by the sound of Masley's wildly innovative bowhammer cymbalom. The cymbalom is an ancient instrument, similar to a zither or hammered-dulcimer - originating in Eastern Europe in 1874, but with primitive early examples dating back as early as 3500 BC. Yet Masley's approach to the instrument was wholly original. Masley replaced the two traditional cymbalom hammers, with bowhammers - an invention wherein he fitted each of his fingers with it's own combination hammer/bow device, which allowed him to both strike the strings, and bow them like a violin. Outfitted with his bowhammers, Masley was able to wrest startlingly new sounds from a centuries-old instrument.
In 1985, after performing together for a couple years, Cleveland produced Masley's first solo endeavour,
Cymbalom Solos
. With the help of Cleveland's timely production, Masley's technique reached its zenith. His complex and beautiful compositions combined elements of Eastern-European classical, new minimalism, and celtic/folk music, yet the end result falls squarely within the world of new age kosmiche. Music of the spheres, conjured by earthbound strings. Masley estimates that he sold tens-of-thousands of cassette copies of
Cymbalom Solos
over his years of performing. And now, Morning Trip is distinctly proud to offer it on vinyl for the first time ever - an album of startling, imaginative beauty, by a brilliant American folk artist.